…Or at least my sanity.
Some of the gals I've been getting to know at church were a bit taken aback to realize we have no car here, and one of the first questions I kept hearing was, How do you get your groceries? This made me feel a bit better about the struggle I'd been having with that task – finding what I need, having to constantly run down to the store and then truck heavy bags back up our steep hill. (I may not be keeping up with my usual exercise routine very well, but living in Very-Hilly-Kirribilli is possibly making up for that.) Not to mention racing after the toddler grabbing at all the brightly colored candy on those wickedly placed low shelves because the stores are too tiny for shopping carts like she usually sits in.
I'd heard people mentioning grocery delivery service but figured it must cost an arm and a leg. Finally someone told me it's quite cheap, and that most moms around here use it. So I looked into it this weekend. Both the major grocery stores here offer it (Woolworths and Coles), at a cost of $5 and $9, respectively. $5?!? Someone hit me for not looking into this sooner.
I placed my order around 8pm last night, and at 9am this morning, it was all sitting on my kitchen counter. I think I've died and gone to heaven.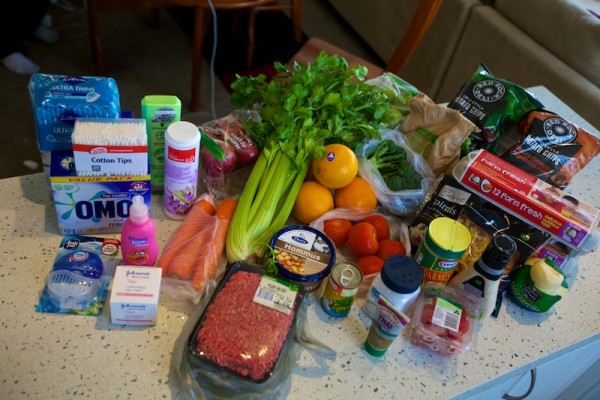 It was incredibly convenient to use a website to shop (especially as a foreigner, because of how lost and overwhelmed I usually feel staring down all those aisles). I could search for things I wanted by typing the item into the search window rather than wandering the store. I could sort by product so I could compare prices and quality without worrying that I was missing some on a different shelf. I could easily discover that they did not carry a specific brand, rather than (again) wandering.
The one drawback is that they didn't have much description for each product, so choosing some products involved a bit more guesswork. I didn't buy any decongestant because I just couldn't tell which one was right for me. And I now have about twice as much laundry detergent as we will probably use in our time here, since I pictured 875 grams of detergent being a lot less than it actually is. And the can of coconut milk I ordered is about 1/4 of the size I expected.
But whatever. I got about 9 bags of groceries this morning, carried inside my front door for me. I did not have to carry them, I did not even have to pay the $5, because first delivery is free! I am one thrilled ex-pat.
Now if only I could find applesauce in bulk…