The 6 days before Ayers Rock, we were in Brisbane for a work-related conference for Daniel.
We arrived in Brisbane and drove around in our rental car awhile as Naomi napped in the car. We drove across the major bridge in Brisbane, the Story Bridge. It was neat, although of course a lot smaller than Sydney's Harbour Bridge. I found out later that they actually have an unusually high suicide rate there because the bridge is not very well-protected against people jumping off it. The railing along the pedestrian walkway is high enough, but the railing along the motorway is below the waist, and so a lot of people just stop their cars, get out and jump. So tragic. But also kind of confusing to me, when it seems they could quite easily string up some nets between the motorway rail and the edge of the pedestrian walkway (only a distance of a few feet), which might at least discourage people or slow them down enough to get some help up there in time.
We got to our hotel, which had a really nice view of the Brisbane River, Story Bridge and the CBD (Central Business District).
So anyway, on to what we did in Brisbane. Alright, I have to be honest. This was not our most fun trip, so I will probably skip the majority of the time in Brisbane and just mention the highlights for you, because you probably don't want to read details of a 4-day stretch of me pulling my hair out in a non-babyproofed hotel room with no toys, no transportation, and no places to walk to with a toddler, while it poured rain outside.
So instead, I'll just put up a few pictures of the one afternoon out of the four which contains my best attempt at a good attitude, and then get on to our final day in Brisbane, which actually was a ton of fun. After one day of mostly staying inside the hotel, I braved going out with Naomi. I wasn't sure where we were going, but it had to be better than that hotel room.
Then, right after I took that shot, and was taking a few shots of the river to show how freezing and cold and gloomy and awful it was, I saw this: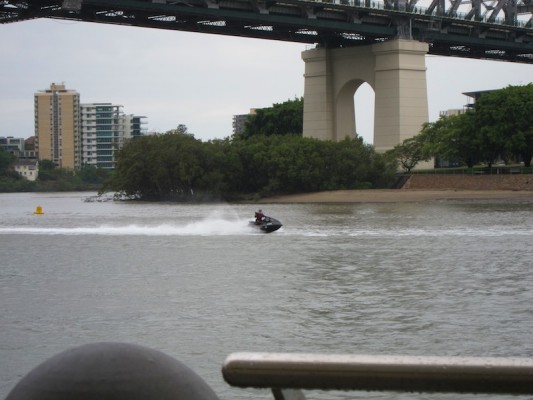 And that made me feel like I could really afford to try a bit harder to have a better attitude. If they could zip around and have fun, I could try to enjoy the day a bit more. And, if nothing else, at least I wasn't out in that icy water!
So I walked onward with Naomi and the stroller along the riverside walkway, hoping to find somewhere – anywhere! – she could get out and play. Nothing. The entire walkway had nothing but a single chain, drooping about knee height, between it and the river 8 feet below it. Not the safest place for a toddler to play. There were tons of shops. That were all closed. And restaurants. And then, there was a set of stairs. Hooray! We followed the stairs and found this area:
We stayed here for the next half hour, playing. And I'm not kidding, the area you can see in this photo was IT. It was a teeny-tiny corner of landscaping beside a big university lecture hall. Right next to a side road, which proved difficult when cars zipped in and out and Naomi thought it was fun to dart out into the road. But this was still better than the hotel room. And thank goodness Naomi was desperate enough to actually find this area fun for a little while.
And, apart from a few rainy dips in the outdoor jacuzzi, that was the extent of our "outside" time for a few days.
Oh except two other times. One morning we visited Daniel's conference with him for a little while. This was pretty fun.
The other time during our first 4 days in Brisbane when Naomi and I got out of the hotel was not so fun, at least for me (Naomi had fun). On Sunday it stopped raining, so I actually attempted to take the ferry to a park a few miles away. I ran the half-mile to the ferry landing pushing the stroller, hoping I could make the next ferry, only to learn that the ticket counter took cash only so I had to run the half-mile back (up a horrendous hill – what is it with Australian cities and insane hills?), get my cash, run the half-mile again, and proceeded to pee my pants (don't ask). Nice, huh? Then I got on the ferry and found that the lady taking the money couldn't break a fifty and I needed something smaller. I about cried. Seeing the look on my face, she said she'd just let me ride for free, but that I'd have to find some change for my return trip later. Then before I got off she sort of hesitantly asked me if I'd been swimming. I said no, and she pointed to my pants which on closer inspection VERY clearly showed what had happened. Of course, knowing that my dilemma was obvious to everyone just, you know, made everything that much more special. Despite this, I played on the playground for another hour or so with Naomi, because there was no way I was going to deprive her of some actual playground time when the poor thing had been cooped up for 3 days. (Besides, no one there will really remember me later… unless I do something stupid like blog about it, right?) So I got nice awkward stares from the other parents, and had one of the most humiliating days I can remember.
So I realize I'm sort of biased when I say I won't remember Brisbane very fondly. It's not exactly Brisbane's fault, it's just … what happened.
That said, our final day in Brisbane was really spectacularly good. More about that in the next post.