On Wednesday, Naomi and I each had our own adventure. Daniel's got canceled, but he made up for it by going out down to Milford Sound for the day and taking pictures of waterfalls and penguins. (See the post and video about my paragliding adventure here.)
Naomi's adventure took place in the morning: jumping on a bungee trampoline. And boy did she get into it! When we first arrived I thought, "Hm… We've driven a half hour to get here, and what if she won't even let the attendant strap her in? What if she hates it?"
I should not have worried.
The only complaint from Naomi was that she couldn't go higher (and the attendant tightened it up about as high as it would go, so that the girl was probably at least 15-20 feet in the air!)
A little background: one of Naomi's favorite games is to "jump high!" with Daddy ("Dupp high!"). This involves a series of little moves they've developed on their own, mostly centered around him holding her by her waist and bouncing her up and down on the sofa – they have the "jump and spin" move, the "whoa" move and … a bunch of others I don't know about. It is her absolute favorite thing to do. Well, next to watching videos of Baby Luke (her cousin) or her Uncle Andy climbing on rocks. Recently, if we seem busy with something and she is wanting some attention, we've noticed that she just blurts out a random string of all her favorite things, hoping that one of us will latch on to any particular item and say yes. So we hear, "Dupp high… veedyo… bebe yook… outside… makid time…" (In order, that is: jump high, watch a video on Facebook, watch a video of Baby Luke, go outside, have naked time.)
So with how much she loves bouncing up and down with Daddy, we thought she'd enjoy a trampoline with a bungee that would let her jump as high as she wanted. We told her before we left that she was going to get to jump high, and she was looking forward to it the whole way there.
There weren't any other customers at the trampolines, and that worked to our advantage because it meant Naomi got about 20 or 25 minutes jumping, rather than the 15 minutes we paid for (that and our Welsh attendant was super nice :) ). Naomi watched the attendant setting up the bungees with fascination.
Then when it was time to strap her into the harness, thankfully the attendant invited me to get on the trampoline too. So there were no problems getting on, and we let Naomi jump a bit on her own, but when she realized that the bungees could lift her up some, she wanted to go higher and higher. So I pulled her down and let her soar! She loved it!
When she saw how much Naomi was enjoying it, the attendant asked if she'd like to go higher. So we asked Naomi, and heard a very clear, "Uh huh!"
She kept wanting to go higher, so the attendant tightened the cords a few times. She didn't have enough body weight for gravity to pull her back down to the trampoline against the tightness of the cords, so every few bounces I'd pull her back down to give her more momentum. After the cord had been tightened a few times, if I didn't grab Naomi in time she eventually stopped out of my reach, suspended in midair above my head!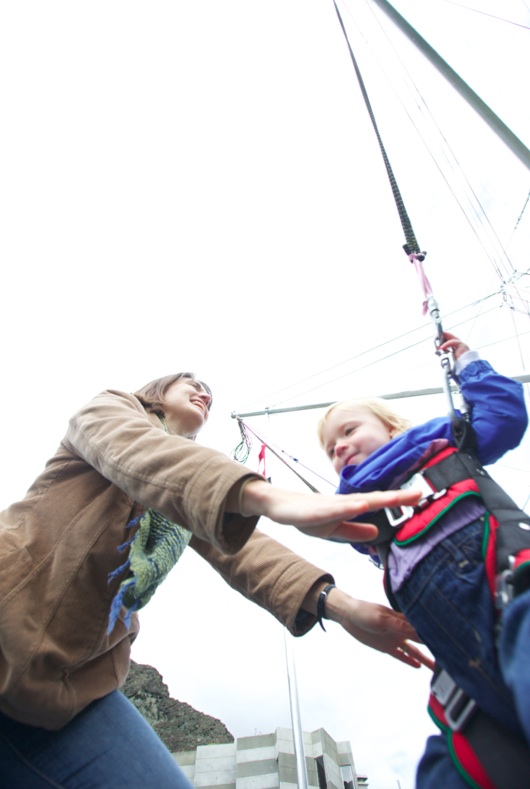 When she finally had to get off, it was clear that Naomi had absolutely loved the bungee trampoline. I'm so glad she got to do it!